Holiday Happiness with Gilbert Brown
Champions Riverside Resort 6PM – 11PM
6:00 Social , Meet and Greet
Nominee registration
Take pictures with Gilbert and families – no charge for families & sponsors Autographs are $20 per player per item
Photo's $20 includes Santa & his elves! Printed out 8×10
Red nose sales for Packer/Viking Tickets
6:30 pm food starts
Donations appreciated – no charge for families
6:45 pm Lori Severson – Gilbert Brown Foundation
Holiday Happiness Explanation Video by C MAC Productions
7:00 Get Vocal Point performance & Check presentation
Foundation Auction
Diamond Jewelry
Cabin
Pearl Jewelry
Spring Camping Package
Aaron Rodgers autographed print
Face Book Live!
Your MC's: Gilbert & Caden
Santa Mrs. Claus & Elves pass out gifts to families Auctions & Raffles close at 9pm
DJ Carmen Sandiego Till 11:00pm! Games and prizes!
Thank you to our sponsors! Champions Riverside Resort, Nail Department, CSAW Associates, Nommensen Financial
For ticket information and more click here or visit https://squareup.com/store/the-gilbert-brown-foundation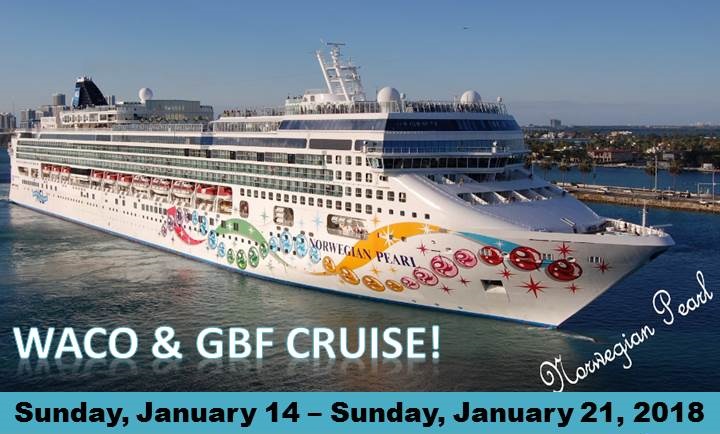 2018 GBF & WACO CRUISE!
The Gilbert Brown Foundation and the Wisconsin Association of Campground Owners have teamed up for the 2018 Cruise on the Norwegian Pearl! The cruise will be embarking from New Orleans, Louisiana on Sunday, January 14th, 2018 and returning on Sunday, January 21st, 2018.

During this time, the Norwegian Pearl will travel to:
Cozumel, Mexico
Roatan Bay Islands, Honduras
Harvest Caye, Belize
Costa Maya, Mexico
This cruise will feature a wonderful deal on rooms and drinks including add on specials such as Ultimate Beverage package open bar (valued at $650.00 per person), Pre-Paid Service Charges (valued at $94.50 per person), 4 Specialty restaurants (valued at $135.00 per person), and more! $75 of every room goes to The Gilbert Brown Foundation!

There currently is a great deal of a non-refundable down payment for only $50 due at booking! Final payment is due on October 16, 2017.
To view the full itinerary for the trip and pricing, click here.