2017 Wellness Weekend
Join the Gilbert Brown Foundation on November 10th & 11th for a weekend of pampering, fun and relaxation! Take part in our Friday night creative craft & pamper yourself on Saturday in all types of spa services.

To RSVP or purchase tickets, visit https://squareup.com/store/the-gilbert-brown-foundation. Note: Pre-registration is REQUIRED and due by November 1st, 2017. This helps us get an accurate number for vendors, food, supplies, etc. Make sure to make the quantity of tickets match the amount of people in attendance and in "Additional Notes" to put how many people are attending the Friday Night Creative Craft. Thanks for helping our volunteers make this a smooth and fun event!

To view the full schedule of events and more about the event, click here.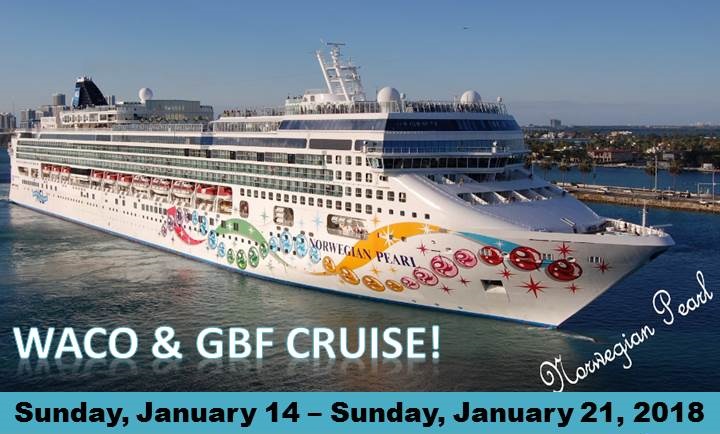 2018 GBF & WACO CRUISE!
The Gilbert Brown Foundation and the Wisconsin Association of Campground Owners have teamed up for the 2018 Cruise on the Norwegian Pearl! The cruise will be embarking from New Orleans, Louisiana on Sunday, January 14th, 2018 and returning on Sunday, January 21st, 2018.

During this time, the Norwegian Pearl will travel to:
Cozumel, Mexico
Roatan Bay Islands, Honduras
Harvest Caye, Belize
Costa Maya, Mexico
This cruise will feature a wonderful deal on rooms and drinks including add on specials such as Ultimate Beverage package open bar (valued at $650.00 per person), Pre-Paid Service Charges (valued at $94.50 per person), 4 Specialty restaurants (valued at $135.00 per person), and more! $75 of every room goes to The Gilbert Brown Foundation!

There currently is a great deal of a non-refundable down payment for only $50 due at booking! Final payment is due on October 16, 2017.
To view the full itinerary for the trip and pricing, click here.
To register, fill out the form here and send it to The Gilbert Brown Foundation office by mail, fax, or email.